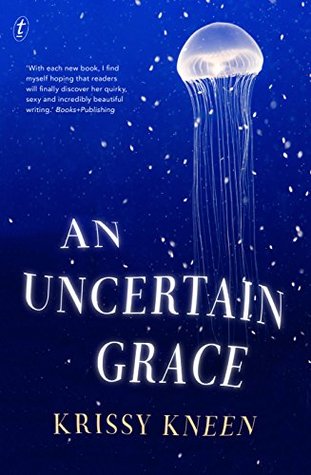 Here's my review from Goodreads.
An Uncertain Grace
by
Krissy Kneen
I was seduced initially by the sumptuous cover, and then drawn in by the extraordinary writing in this erotic, literary dystopian novella. Structured in five parts, with five point-of-view characters, it reads as distinct stories, linked by the presence of one central character, Liv, and the interwoven themes of sexuality, aging, autonomy, and our impact on the natural world.
Kneen writes with humour and a deft hand to create this intelligent, sexy story. Liv is a writer of fiction in a futuristic world, creating an intimate virtual reality so realistic that the 'reader' can feel what the protagonist feels, see the world from another's perspective. As Kneen demonstrates in An Uncertain Grace, this is also what the skilled author achieves with a story such as this: one which places you into the mind of someone whose life is different from your own and allows you to experience the existence of another, to feel empathy even for those we abhor.
Rather like a good degustation menu, this story challenges and delights in equal measure with each of its distinctly different parts to create a satisfying whole.